This post is also available in:

Français
Most candidates tend to believe that there is a one-size-fits-all resume template for every situation. However, this perception is far from reality, as different countries have their expectations when it comes to resumes. Indeed, the resume is not universal, and there are several distinct formats, including the French CV, the European CV, and the Canadian CV, to name just a few.
Each of these formats has its conventions, structure, and specific requirements. Ignoring these nuances can lead to misunderstandings or misinterpretations by employers or selection committees, underscoring the importance of customizing one's resume based on the geographical and cultural context of the application. By understanding these variations and adapting the resume accordingly, candidates significantly increase their chances of standing out and succeeding in their job or scholarship search.
Do you know?
According to a recent study conducted by Behiring, did you know that:
More than 50% of the resumes sent to an employer or university do not meet the basic qualifications.
76% of resumes are rejected due to an unprofessional email address.
A spelling or grammar mistake, and your resume will end up in the trash.
One in three employers has rejected candidates based on something they found online about them.
An 88% rejection rate when you include a photo on your resume.
Only 35% of candidates are actually qualified for the positions they apply for.
93% of recruiters are likely to check a candidate's social profile (Facebook, Twitter, Instagram, etc.).
Did you know that during interviews, the most common reasons for rejection are:
70% of candidates were considered too fashionable or trendy.
67% lacked eye contact.
55% were judged on how they dressed, behaved, or entered the room.
47% had insufficient or no knowledge of the company.
38% were evaluated on their self-confidence and lack of a smile.
Canadian Resume
When a Canadian university or employer requests a resume, do not submit just any form of resume; instead, send a 'Canadian resume'! A Canadian resume has the following characteristics:
Limited Personal Information:
A Canadian resume typically includes minimal personal information. It often includes only the first name, last name, a phone number, and an email address. Information such as date of birth, age, weight, height, marital status, religious beliefs, political opinions, and sexual orientation is not included.
No Photo:
Not including a photo is an important feature of the Canadian resume. Unlike many other countries where it is common to include a candidate's photo on the resume, this practice is generally not recommended in Canada. The goal is to prevent discrimination based on physical appearance, age, gender, or other factors that are irrelevant to assessing a candidate's skills and experience. Therefore, it is advisable not to add a photo to your Canadian resume unless the position you are applying for explicitly requires one, for example, in professions where appearance is a selection criterion, such as modeling or hosting.
Minimal Use of Personal Pronouns:
In a Canadian resume, it is recommended to avoid excessive use of personal pronouns such as 'I,' 'Me,' or 'My.' The minimal use of personal pronouns and a preference for infinitive verbs give the resume a more impersonal tone, focusing on the candidate's skills and achievements. This helps highlight qualifications and experiences in a more objective manner, which is one of the distinctive features of a Canadian resume.
Highlighting Achievements:
Highlighting professional achievements is a key element of the Canadian resume. By showcasing specific projects, accomplishments, and professional experiences that the candidate takes pride in, the resume tangibly demonstrates the positive impact the candidate has had in previous roles. This can contribute to showcasing the value the candidate can bring to a potential employer. The Canadian resume focuses on results and concrete achievements, which is an important aspect for recruiters in Canada, as it allows them to assess the candidate's ability to deliver tangible results in the future.
Volunteer Work:
Including volunteer work in a Canadian resume is a common and valued practice, especially when the volunteer experience is relevant to the desired position. Volunteer work can demonstrate social engagement, a willingness to contribute to the community, as well as transferable skills such as teamwork, leadership, project management, and more. Employers in Canada often appreciate candidates who show a sense of social responsibility and a commitment to the well-being of society, making the addition of volunteer work to the resume even more important for those with this experience.
Quantitative Data:
Quantitative data is an essential aspect of a Canadian resume. Canadians place great value on measurable achievements because they provide concrete evidence of a candidate's skills and contributions. Adding numbers such as sales statistics, improvement percentages, budget amounts, project counts, and more helps quantify accomplishments and demonstrate the positive impact the candidate has had in previous professional experiences. This enhances the credibility of the resume and can be a determining factor in the selection process.
References
Adding references to the resume is not a common practice in Canada. Instead of providing references directly on the resume, it is more common to include the phrase 'References available upon request' at the end of the document. This means that the candidate is willing to provide references to a potential employer if required, but these references are not included by default in the CV itself. This approach preserves the confidentiality of the references and allows the candidate to provide them as needed.
Structure of a Canadian Resume
A Canadian resume is primarily composed of 5 parts:
Header: The header is the top section of your resume and includes your contact information. This typically includes your full name, address if necessary, phone number, and email address. Ensure that this information is accurate and up to date.
Professional Summary (or Objective): This section is a brief paragraph that provides an overview of your qualifications, career objectives, and what you bring as a candidate. It should be concise and tailored to the specific position you're applying for.
Work Experience: This section is one of the most critical parts of your resume. It should list your work experience in reverse chronological order, starting with your most recent or current employment. For each position, include your job title, the name of the company or organization, location, and dates of employment. Under each job entry, provide bullet points describing your main responsibilities, achievements, and successes. This section should highlight your relevant experience for the position you're targeting.
Education: In this section, list your educational background, also in reverse chronological order, with your most recent degree or qualification at the top. Include the name of the institution, the degree earned, the field of study, and the graduation date. You can also mention any academic honors or awards received.
Skills: This section allows you to showcase your specific skills and abilities relevant to the position. Include both technical skills (such as programming, language proficiency, etc.) and interpersonal skills (communication, teamwork, leadership, etc.). This section can also include certifications, licenses, or other qualifications relevant to the position.
Examples of Canadian Resumes
Below are some downloadable examples of Canadian resumes. Click on the image to download the template:
Generic Canadian Resume Example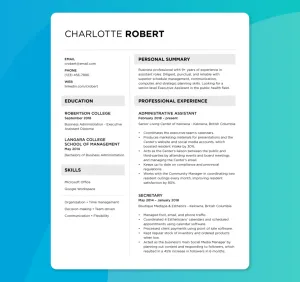 Example of a Resume for Admission to a Canadian University or for a Scholarship in Canada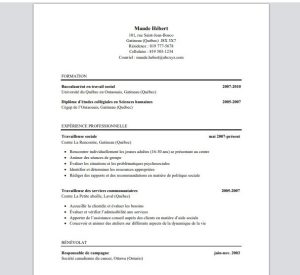 Technology Industry Canadian Resume Example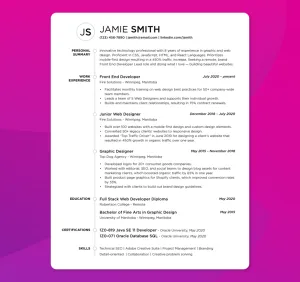 Healthcare Industry Canadian Resume Example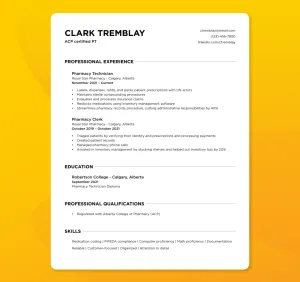 Education Industry Canadian Resume Example
Useful Links for Crafting Your Resume
If you're applying for a job or university admission in Canada, you can write and design your resume for free using the Canadian government's job website, guichetemplois.gc.ca.
If you want to apply for a job or university in Europe, then use this official service offered by the European Union to create a CV recognized in Europe.
If you're applying for a job or university in the United States, use this official service provided by the U.S. government to create your CV.
In conclusion, it's essential to recognize that the process of creating an effective curriculum vitae (CV) is far from universal. Each country has its own standards, expectations, and CV conventions. Ignoring these nuances can lead to misunderstandings and even the rejection of your application. To maximize your chances of success in your job or scholarship search, it's imperative to customize your CV according to the specific geographical and cultural context.