This post is also available in:

Français
Applications for Dutch government scholarships "Holland Scholarships" are now open for the 2022-2023 academic year.
Holland scholarships are funded by the Dutch Ministry of Education, Culture and Science and several Dutch research units and universities. The scholarship amounts to €5,000. You will receive it during the first year of your studies.
The Dutch government scholarships are intended for international students from outside the European Economic Area who wish to do their bachelor or master degree in the Netherlands.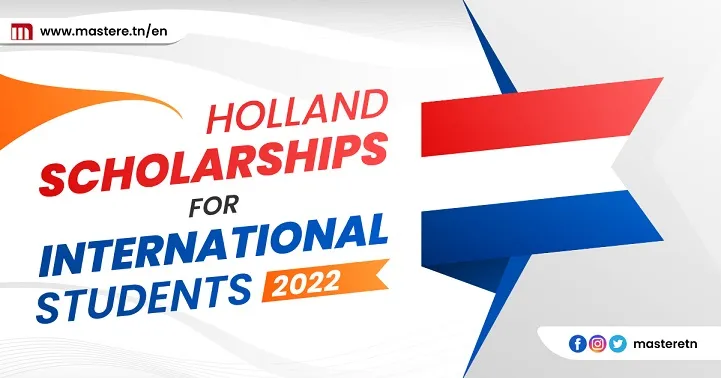 Holland scholarships in nutshell
DEADLINE : February 1ᵉʳ or May 1ᵉʳ, 2022 (depending on university).
LEVEL : Bachelor, Master.
FINANCING : 5 000 €, 10 000 € ou 15 000 €.
OPEN TO : All nationalities except EEA.
HOST COUNTRY : Netherlands.
Amount of the Holland scholarships
The scholarship amounts to €5,000, €10,000 or €15,000. You will receive it during the first year of your studies.
The program is not a full scholarship. It is a contribution to living and study expenses during the first year of the study program.
Eligibility
To be eligible:
You must be a citizen of a non-EU country.
You are going to, or are applying to, a full-time undergraduate or master's program at one of the participating Dutch higher education institutions (see list below).
Meet the specific requirements of the institution of your choice.
You do not hold a degree from an educational institution in the Netherlands.
Participating universities
Below is the list of universities eligible for Dutch government scholarships for the academic year 2022-2023.
Here you can find the specific dates, fields and level of study offered by each participating institution:
How to apply for the Holland scholarships?
To apply for the Holland scholarships, follow these steps:
Choose your bachelor or master's program and read the admission requirements. Use the list of universities above to locate your preferred program.
Check your program's website for all the necessary documents you need to submit. Generally, these include: Copy of your passport or national ID card, proof of previous education, resume and cover letter, and two letters of recommendation.
Submit an application in Studielink. Studielink is the Dutch national database for admission to higher education in the Netherlands ( check here for the Studielink user guide)
After submitting your application in Studielink, you will receive an email with login details and further instructions for the online application "OSIRIS". Osiris is the student's information system, which records all your data from registration to graduation.
Go to "OSIRIS" specific to your university (just type the name of your university on Google followed by the word "OSIRIS"). Log in with the login and password you received. Then complete the procedure and check the "Holland Scholarships" box.
If you require any further assistance, we strongly recommend that you attend the upcoming virtual exhibition " Study in Holland". Representatives from Dutch higher education institutions will be present online. You can learn more about the English-taught study programs they offer, chat with them, watch informative videos and download information materials.
The virtual meeting is open to students from all over the world. It is online and it is free of charge. It will be held on November 18, 2021, from 09.00 – 12.00 (Dutch time). Register here free.
You may also be interested in this opportunity:
Follow us on Facebook, Twitter, and Instagram.