This post is also available in:

Français
The Hubert H. Humphrey fellowship is a program funded by the United States government through the Office of Educational and Cultural Affairs of the Department of State and the Institute of International Education (IIE). The program offers mid-career professionals from designated countries in Africa, Asia, Latin America, the Caribbean, the Middle East, Europe, and Eurasia the opportunity to improve their professional capacities by participating in specialized 10-month programs.



The aim of the Hubert H. Humphrey fellowship program is to provide selected applicants with a comprehensive experience that broadens their perspectives, enhances their ability to take on greater professional responsibilities, and provides them with the opportunity to establish useful professional contacts.
Brief description
DEADLINE : Depending on your country (see below).
LEVEL : Traineeship (10 months).
NUMBER OF FELLOWSHIPS : 200.
FINANCING : Fully funded.
OPEN TO : Specific countries (see below).
HOST COUNTRY : United States of America.
Benefits of the Hubert H. Humphrey scholarships
Financially, the Hubert H. Humphrey fellowship will provide to selected candidates :
A monthly allowance (varies depending on the destination city).
An allowance for books and supplies.
Tuition fees waiver.
Fees for standardized tests required for admission to a host university.
Support for international round-trip travel to the host institution.
Support for domestic trips to Washington, DC for a special seminar.
Medical insurance provided by the United States government.
Additional funds are available for professional activities such as field trips or attending conferences.
Furthermore, the program will offer the following benefits:
Assistance to the scholarship holder in identifying and applying for admission to American universities.
Orientation before departure.
Assistance in obtaining the J-1 visa (Visa exchange program).
Pre-college programs in the United States. The duration of these programs varies between four days and eight weeks and takes place before the start of the graduate program. These programs are designed to meet the needs of the course in which the scholar is accepted.
Besides its financial and assistance aspect, the Hubert H. Humphrey fellowship program will help you, once selected, to obtain visas for your spouse and minor children. Meanwhile, keep in mind, you will be responsible for their living expenses.
General eligibility criteria
Fellows are selected based on their national leadership potential and commitment to public service, whether in the public or private sector.
Potential participants for the Hubert H. Humphrey fellowship must have:
An undergraduate degree.
A minimum of five years of full-time professional experience.
Little or no previous experience in the United States.
Demonstrated leadership qualities.
A public service report in the community.
Linguistic ability in English.
Fields eligible for Hubert H. Humphrey scholarships
The Hubert H. Humphrey Fellowship Program provides qualified applicants with opportunities in the following areas:
Agricultural / rural development.
Climate change.
Communications / Journalism.
Economic development.
Education / Educational planning.
Environmental policy.
Finance and banking.
HIV / AIDS policy and prevention.
Human resources / personnel management.
Law, civil society, human rights and democratic development.
Natural resource management.
Analysis of public policies and public administration.
Public health policy and management.
Drug addiction education, prevention, and treatment.
Technology policy and management.
Teaching English as a Foreign Language.
Policy and prevention of trafficking in persons.
Urban and regional planning.
Countries eligible for the Hubert H. Humphrey scholarship
Citizens of the following countries are eligible to participate:
Click to expand
Afghanistan, Albania, Algeria, Angola, Argentina, Armenia, Azerbaijan, Bahamas, Bahrain, Bangladesh, Barbados, Belarus, Belize, Benin, Bhutan, Bolivia, Bosnia and Herzegovina, Botswana, Brazil, Bulgaria, Burkina Faso, Burma (Myanmar), Burundi, Cabo Verde, Cambodia, Cameroon, Central African Republic, Chad, Chile, China, Colombia, Democratic Republic of Congo (Kinshasa), Republic of Congo (Brazzaville), Costa Rica, Ivory Coast, Croatia, Cuba, Cyprus, Djibouti, Dominican Republic, Ecuador, Egypt, El Salvador, Equatorial Guinea, Eritrea, Estonia, Eswatini, Ethiopia, Fiji, Gabon, Gambia, Georgia, Ghana, Greece, Guatemala, Guinea, Guyana, Haiti, Honduras, Hungary, India, Indonesia, Iran, Iraq, Israel, Jamaica, Jordan, Kazakhstan, Kenya, Kiribati, Kosovo, Kyrgyzstan, Laos, Latvia, Lebanon, Lesotho, Liberia, Libya, Lithuania, Madagascar, Malawi, Malaysia, Maldives, Mali, Mauritania, Mauritius, Mexico, Moldova, Mongolia, Montenegro, Morocco, Mozambique, Namibia, Nauru, Nepal, Nicaragua, Niger, Nigeria, North Macedonia, Oman, Pakistan, Palestinian Territories (Gaza), Palestinian Territories (West Bank), Panama, Papua New Guinea, Paraguay, Peru, Philippines, Romania, Russia, Rwanda, Samoa, Saudi Arabia, Senegal, Serbia, Sierra Leone, Slovak Republic, Somalia, South Africa, South Korea, South Sudan, Sri Lanka, Sudan, Suriname, Tajikistan, Tanzania, Thailand, Timor-Leste, Togo, Tonga, Trinidad and Tobago, Tunisia, Turkey, Turkmenistan, Tuvalu, Uganda, Ukraine, United Arab Emirates, Uruguay, Uzbekistan, Venezuela, Vietnam, Yemen, Zambia, Zimbabwe
List of Host American Universities
This year, applicants will be welcomed in:
Application procedures
Interested candidates can apply online here : https://apply.iie.org/apply/
For more country-specific details, refer to your country's U.S. Embassy website :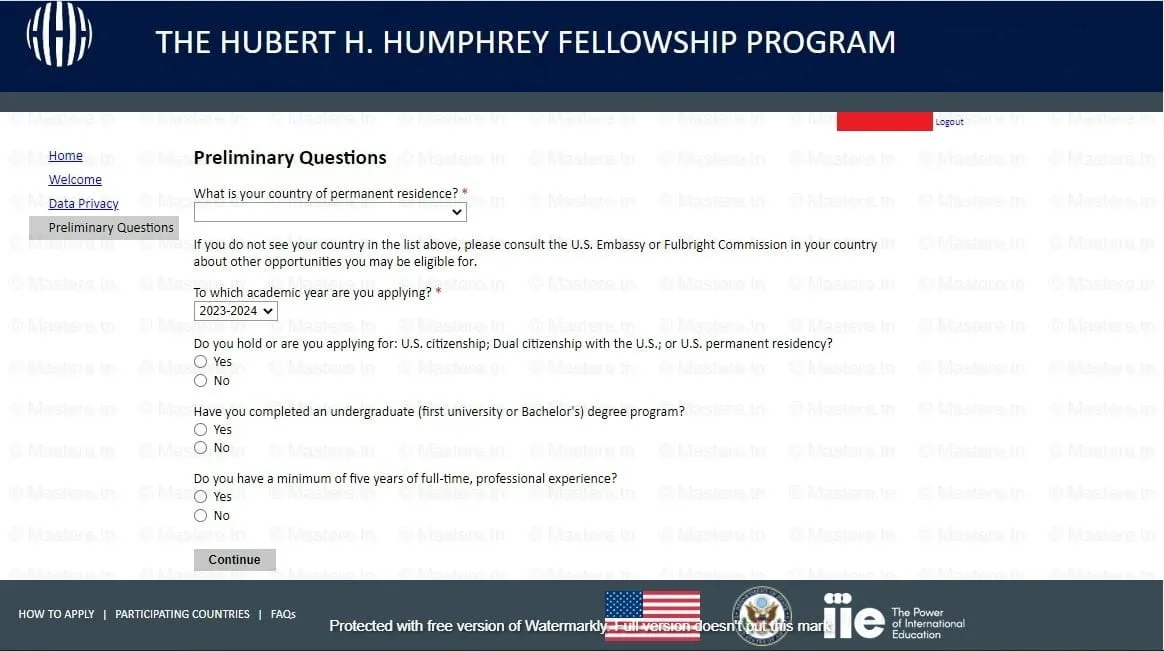 The deadline to apply for the Hubert H. Humphrey Fellowships varies by country, but generally, between June and August.
Have a look at our other scholarships in the USA.