This post is also available in:

Français
The Italian government offers scholarships to foreign students and Italian citizens living abroad. The objective of this program is to strengthen international cooperation in the scientific, technological, cultural and artistic fields and to promote the Italian language and culture.
Italian government scholarships are offered at the bachelor, master and doctoral levels. Scholarships may also be awarded for research or linguistic stays in a public or legally recognized Italian institution.
In fact, there are more than 65 public universities in Italy, 27 of them are in top 500 best universities in the world. Over one million students were enrolled in a bachelor program in Italy. Master students were roughly 335 thousand.
According to statista.com, in the academic year 2019/2020, there were 96 thousand foreign students in Italy.
About the Italian government scholarships
DEADLINE: June 5, 2023.
LEVEL: Bachelor's, Master's, Doctorate, Research, Language and cultural stay.
FUNDING: Fully funded.
TARGET GROUP: Specific (see the list below).
HOST COUNTRY: Italy.
Amount and Advantages
Selected candidate for the Italian government scholarships will receive a monthly allowance of 900 euros paid quarterly (900 euros x 3 months = 2,700 euros).
Moreover, scholarship recipients will be exempt from paying tuition and fees. The exemption does not apply to language and cultural stays.
In addition, fellows will be covered by health and medical insurance. Insurance is valid exclusively for the duration of the scholarship. Pre-existing conditions and dental care are excluded from insurance coverage.
The Italian government scholarships are awarded for a period of 3 (three), 6 (six) or 9 (nine) months depending on the level of study.
Eligibility
Bachelor's degree: The Italian government scholarships at the Bachelor's level are only available for higher education courses in art, music, and dance.
Master's degree : Admission to the first year of a Master's degree in Italy requires a Bachelor's degree. Admission to the second year is granted to candidates who can prove that they have made satisfactory progress in their first year of master. Scholarships for Master's courses are granted for a study period of 6 (six) or 9 (nine) months.
PhD : To be admitted to a doctoral program, applicants must meet the admission requirements and academic qualifications established by the university. They must also provide the letter of admission to the doctoral program from the relevant Italian university. Scholarships for a doctoral program are awarded for a period of study of 6 (six) or 9 (nine) months.
Language stay: The Italian government scholarships for Italian language and culture courses are granted for a period of 3 (three) months exclusively to students who attend an Italian language course at a university or an Italian cultural institute. Applicants must provide a certificate attesting to their proficiency in the Italian language. The minimum level required is A2.
Research: Applicants must submit a research proposal, including the name and contact information (email address) of their research supervisor, and provide the letter of invitation/acceptance from the host university/institute. Fellowships for research under academic supervision are awarded for a study period of 6 (six) or 9 (nine) months.
The age of the candidates for the Italian government scholarships at the bachelor, master, and linguistic stay levels must not exceed 28 years and 364 days at the deadline of this call. The age of candidates for the PhD program must not exceed 30 years and 364 days. For the research program, the applicant must be under 41 years old.
Eligible countries
There are 107 eligible country for the Italian government scholarships:
Click to consult the list of eligible countries
1. AFGHANISTAN 2. ALBANIA 3. ALGERIA 4. ANGOLA 5. ARGENTINE 6. ARMENIA 7. AZERBAIDJAN 8. BANGLADESH 9. BELARUS 10. BOLIVIA 11. BOSNIA-HERZEGOVINA 12. BRÉSIL 13. BULGARIA 14. BURKINA-FASO 15. CAMBODGE 16. CAMEROUN 17. CANADA 18. CHILI 19. CHYPRE 20. COLOMBIE 21. COSTA RICA 22. CROATIE 23. CUBA 24. RÉPUBLIQUE TCHÈQUE 25. RÉPUBLIQUE DÉMOCRATIQUE DU CONGO 26. RÉPUBLIQUE DOMINICAINE 27. CÔTE D'IVOIRE 28. ÉQUATEUR 29. ÉGYPTE 30. ÉGYPTE 30. ESTONIE 31. ÉTHIOPIE 32. FRANCE 33. GABON 34. ALLEMAGNE 35. GHANA 36. GIORGIE 37. GRÈCE 38. GUATEMALA 39. HAÏTI 40. HONGRIE 41. INDE 42. INDONESIA 43. IRAN 44. IRAQ 45. ISRAEL 46. KAZAKHSTAN 47. JAPAN 48. JORDAN 49. KENYA 50. KYRGYZSTAN 51. KOSOVO 52. LETTONIA 53. LEBAN 54. LESOTHO 55. LIBYA 56. LITHUANIA 57. MALAYSIA 58. MALI 59. MALTE 60. MEXIQUE 61. MOLDOVA 62. MONGOLIA 63. MONTÉNÉGRO 64. MAROC 65. MOZAMBIQUE 66. MYANMAR 67. NIGER 68. NIGERIA 69. MACÉDOINE DU NORD 70. OMAN 71. PALESTINE 72. PANAMA 73. PARAGUAY 74. RÉPUBLIQUE POPULAIRE DE CHINE 75. PÉROU 76. PHILIPPINES 77. POLOGNE 78. ROUMANIE 79. FÉDÉRATION DE RUSSIE 80. SÉNÉGAL 81. SERBIA 82. SINGAPORE 83. SLOVAKIA 84. SLOVENIA 85. AFRIQUE DU SUD 86. CORÉE DU SUD 87. SOUDAN DU SUD 88. SRI LANKA 89. SOUDAN 90. SUISSE 91. SYRIA 92. TADJIKISTAN 93. TAÏWAN 94. TANZANIA 95. THAILAND 96. TOGO 97. TUNISIA 98. TURQUIE 99. TURKMENISTAN 100. UKRAINE 101. ROYAUME-UNI 102. URUGUAY 103. OUZBEKISTAN 104. VENEZUELA 105. VIETNAM 106. ZAMBIA 107. ZIMBABWE
How to apply for the Italian government scholarships?
Applications must be sent exclusively through the STUDY IN ITALY portal. Applicants must be in possession of a valid passport or identity card.
It is not necessary to apply separately to a university. The Italian government scholarship program manages the placement of selected students.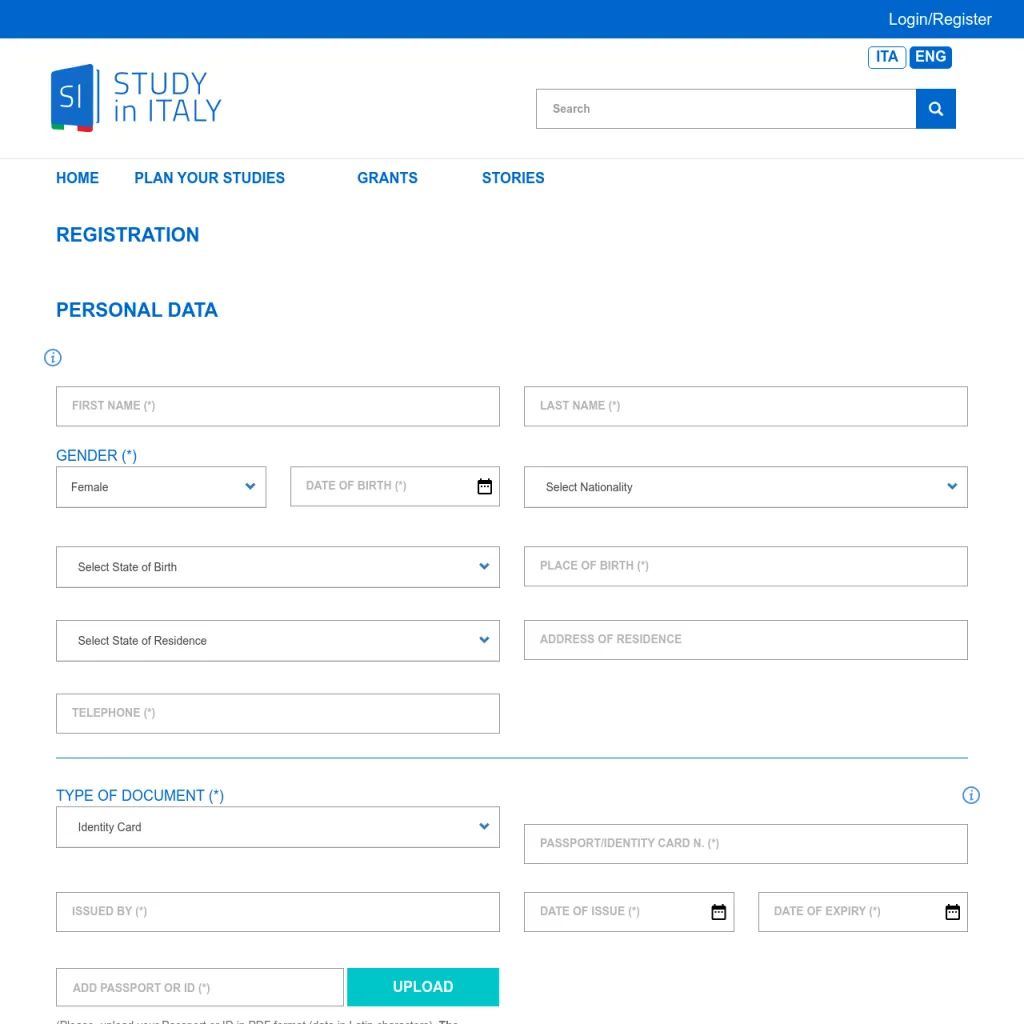 by the call deadline, applicants must also be in possession of the following :
Academic qualifications: Diploma and transcripts.
Language proficiency: Certification of Italian language proficiency at B2 level, if they intend to study a program taught in Italian. Certification of English language proficiency level B2, if they intend to study a program taught in English.
Applications for the Italian government scholarships must be submitted by June 5, 2023, at 2:00 p.m. Applications submitted after the deadline will be rejected.
For more scholarship opportunities in Italy, take a look at this link.
Follow us on Facebook and Instagram for more scholarships opportunities.
See our list of :
40 Scholarships for International Students Currently Open for Application
505 Scholarships in Italy currently open for application