This post is also available in:

Français
Applications for the University of Paris SMARTS-UP scholarships program for international students are now open for the 2022-2023 academic year.
The SMARTS-UP program of the University of Paris aims to promote the internationalization of Master's courses and facilitate the reception of foreign students to constitute a pool of excellence for the recruitment of future doctoral students. SMARTS-UP will train foreign students who will be experts in their field and future academic executives or senior officials in their country of origin or in France.
In this context, it is proposed to fund for the academic year 2022-2023, 120 incoming mobility scholarships to allow University Research Schools (EUR) under the University of Paris to welcome foreign students in the various Masters programs. The scholarships are awarded for one year.
University of Paris SMARTS-UP Scholarships
LEVEL : Master (M1 or M2 as desired).
DEADLINE : from December 1, 2022, to January 15, 2023, at 5 p.m. (CET).
FINANCING : €8,000 for one year.
ELIGIBLE COUNTRY : All nationalities.
HOST COUNTRY : Paris, France.
HOST ESTABLISHMENT : University of Paris.
SMARTS-UP scholarships financial coverage
Selected candidates will receive a scholarship of €8,000 paid in two installments (€4,500 in November 2022 and €3,500 in February 2023). The University of Paris SMARTS-UP scholarships are an aid for your studies. You will need to plan for another source of income to cover expenses during your stay.
Eligibility criteria for the SMARTS-UP scholarships
Students eligible for the SMARTS-UP scholarships must meet the following criteria:
Must be of foreign nationality and will be new to a French university (Students preparing for a double degree with a French university are eligible).
Must not already hold a French national higher education diploma.
Students applying for the Master 1 must hold a foreign diploma equivalent to a French Licence (Bachelor).
Students applying for the Master 2 must hold a foreign diploma equivalent to the French Master 1.
In addition to these general criteria, each Master will apply its selection criteria.
Binational candidates, when they have French nationality, are not eligible. Some students must register for the masters via the Studies in France platform (see list below).
Available master's programs
More than 70 masters' program are eligible for the University of Paris's SMARTS-UP scholarships. They are accessible at M1 (first year of master) or M2 (second year of master) level. Download the list of eligible masters here.
How to apply to SMARTS-UP scholarships?
To apply for the University of Paris's SMARTS-UP scholarships, submit your application online.
If you are from one of the following countries, you must, in addition to the aforementioned step, submit an application via the "Study in France" platform for the same master's program. This is a procedure completely independent of the scholarship, but necessary to obtain a study visa in France. Without this step, even if you are selected, you will not be able to get your Visa.
List of countries whose students must also go through the "Study in France" procedure : Algeria, Saudi Arabia, Argentina, Benin, Brazil, Burkina Faso, Burundi, Cameroon, Chile, China, Colombia, Comoros, Congo, South Korea, Ivory Coast, Djibouti, Egypt, United States, Gabon, Guinea, Haiti, India, Indonesia, Iran, Japan, Kuwait, Lebanon, Madagascar, Mali, Morocco, Mauritius, Mauritania, Mexico, Niger, Nigeria, Peru, Democratic Republic of Congo, Russia, Senegal, Singapore, Taiwan, Chad, Togo, Tunisia, Turkey, Vietnam.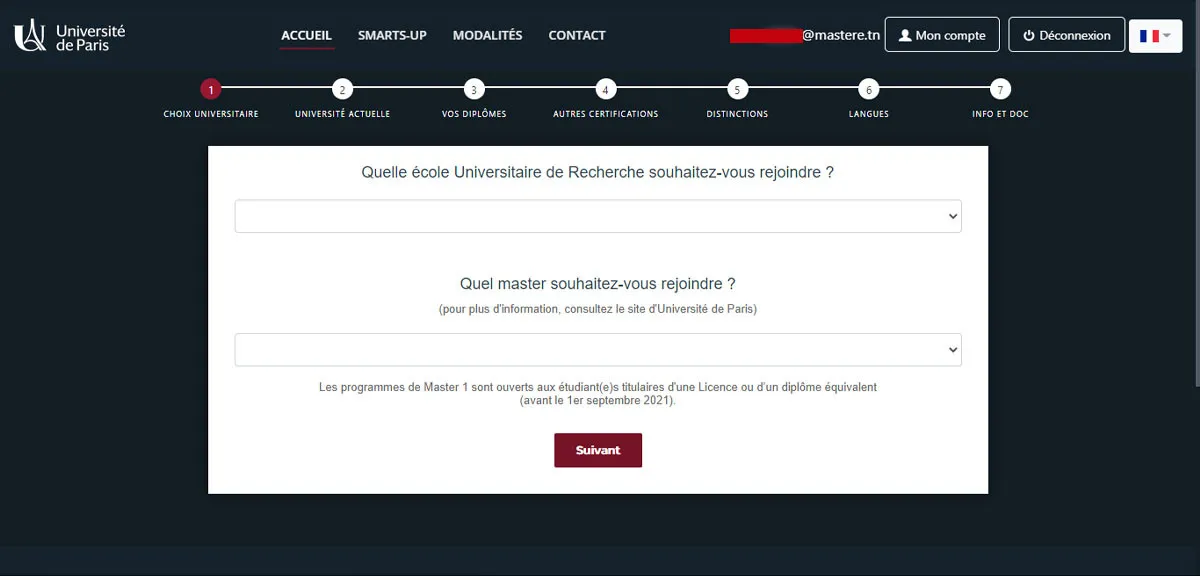 The documents communicated can be in French or in English:
CV (1 page).
Cover letter.
Letters of recommendation: two letters of recommendation written by a professor or an internship supervisor.
Research project: This document is not mandatory, but strongly encouraged.
You can save and modify your application as you go by logging into your account. Once the application is complete, and you have validated its sending, you will no longer be able to modify it. All sending is final.
You will be informed of the grant award decision by email in mid-March 2022. For applicants on the waiting list, the final decision will be communicated to them at the end of April 2022.
For any questions, contact the managers of the SMARTS-UP master's scholarships at the University of Paris on this link.
READ ALSO :
Finnish Government Master Scholarships
Romanian Government Scholarships for Citizens from non-EU Countries
Top 10 Scholarships in France for International Students
Belgian Government Scholarships ARES 2022