Scholarships
USA
Trending
World Bank Group Young Professionals Program
Second call for application: from August 15 to September 30 for IFC and MIGA profiles only.
This post is also available in:

Français
The World Bank Group's Young Professionals Program (WBG YPP) is a two-year leadership development program at the start of an employment contract of five years. Young Professionals (YPs) begin the program in Washington, DC, where they engage in intensive training.
This year, the World Bank and IFC (International Finance Corporation) merged their respective Young Professionals programs into a single World Bank Group Young Professionals Program (WBG YPP).
Eligibility conditions
To be considered for the World Bank Group Young Professionals Program, applicants must:
Be born on or after October 1, 1991 (age ≤ 32 years),
Hold a master's or PhD. Where applicable, complete your master before July 15, 2023, or your PhD before September 2024.
Specialize in a field relevant to the areas of activity of the program (see details below),
Demonstrate relevant professional experience,
Be fluent in English.
To be competitive, applicants must also:
Showing a commitment and passion for international development.
Possess exceptional diplomas.
Demonstrate excellent client engagement, communication, and team leadership skills.
Demonstrate knowledge of relevant industry trends.
The following attributes are a plus :
Working experience in emerging markets or developing countries.
Full command of one of the following WBG official languages: Arabic, Chinese, French, Portuguese, Russian, and Spanish.
Benefits of the World Bank Program
The World Bank Group's Young Professionals Program will offer competitive salary and benefits under a 5-year fixed-term contract.
Net salaries can vary from 82,000.00 USD to 150,800.00 USD, depending on work experience, academic qualifications, skills and technical knowledge of the candidate.
In addition to the salary, the candidate will receive benefits totaling 58,865.00 USD per year (including medical, life and disability insurance, severance pay and other non-salary benefits).
The other advantages are :
a private pension plan;
26 days of annual leave;
a department of health services;
a fitness center;
a daycare;
and others.
Relocation compensation
The young professional's workplace is the headquarters of the World Bank in Washington, D.C. (United States). To provide support to new staff moving to a new location, the WBG offers several relocations advantages, including:
Moving travel : One-way ticket for the candidate and their dependents from the city in which they reside in Washington, D.C.
Relocation expedition : the candidate choose between two options: a moving allowance between 8,000 USD and 14,000 USD (depending on the size of the applicant's family and place of residence), or authorize the GBM to organize the relocation (including the car, luggage, personal effects of the candidate …),
Relocation grant: one-off allowance will be included in the first salary of the young professional.
Mobility bonus : Specific compensation for expatriate members to help them maintain cultural, professional and personal links with their country of origin.
Eligible domains
To be eligible for the World Bank Group Young Professionals Program, applicants must demonstrate experience in at least one of the areas listed below
Agriculture & amp; Food
Digital development
Education
Energy & amp; Extractions
Environment, natural resources and the blue economy
Finance, Competitiveness & amp; Innovation
Governance of Health, nutrition, and population
Jobs and development
Macroeconomics, trade, and investment
Poverty
Public-private partnerships
Urban and land disaster risk management
Social protection
Social sustainability and inclusion
Resilience & amp; Earth & amp; Jobs
Social development
Water Transport
Climate change
Fragility, conflict, and violence
Sexuality
Independent Assessment Panel
Legal
Consulting
Blended concessional financing
Derivatives and structured finance
Equity
Loans
The mobilization
Trade and financing of raw materials
Food & amp; Forestry
Energy Financial institutions
FinTech
Health education
Manufacturing
Mining
Municipal and environmental infrastructure
Telecoms, media, and technology
Tourism, Commerce & amp; Real estate
Transport
Urban development and municipal infrastructure
Water and wastewater
Climate finance
Disruptive technologies
Private equity funds
Cash
Upstream market creation
Venture capital
Credit increase
Political risk insurance
Accounting and Finance
Economy
Environmental and social management
Export credit
Project funding
Climate change
Corporate finance services
Risk management
Sustainable energy
Application procedures
Applications are open from July 3 to July 31 for all profiles, and from August 15 to September 30 for IFC and MIGA profiles only.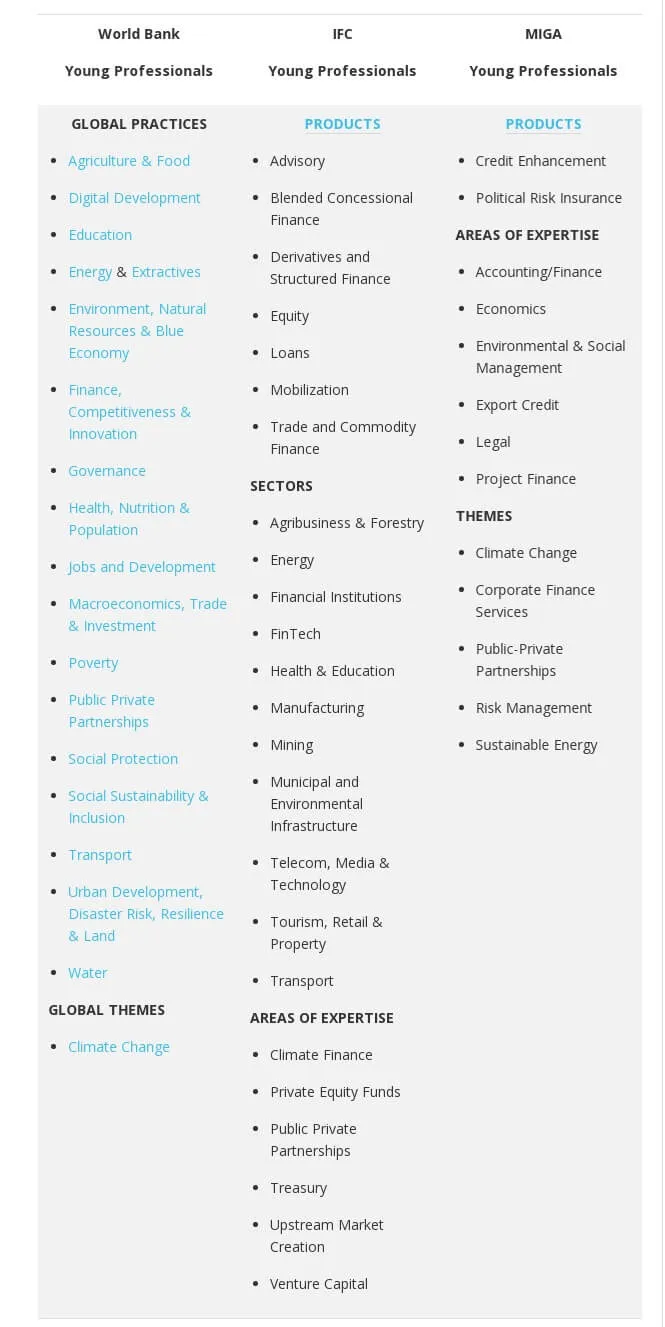 When applying, applicants should select the institution that they believe best matches their skills : World Bank, IFC or MIGA. Benefits and compensation are the same.
The required documents are:
(1) Curriculum vitae.
Copies of diplomas.
(1) short essay.
Brief summary of the thesis or dissertation (if applicable, proof of enrollment with expected graduation date or transcript).
(3) professional or academic recommendations.
For the short essay, in 50 words or 4,500 characters or less, answer the following : Given the current global context, how can the World Bank Group help our country clients support and reach a green, resilient and inclusive development? Please include rebuilding on progress lost on the WBG's twin goals over the past few years, as it relates to your area of work.
Pay special attention to plagiarism or text translated from other languages. The candidate will be automatically eliminated, regardless of the excellence of his academic or professional profile.
The interviews will take place virtually. Activities may include:
An assessment center, where you will be asked to participate in individual and group exercises.
Timed computer-based financial tests.
Applicants who are invited to interview will be provided with more detail as the process moves along.
Contact
To request additional documents or information, contact the World Bank Young Professionals Program office at [email protected]